In this Official Episode of the Podcast of Wisdom: Games Show, our Heroes discuss but are not limited to:
The Loading Bar's Big Red Blood Dragon Party
We introduce the newest co-host to the show… The rickety loud table (he'll be gone next week)
SEGA Gearbox Lawsuit
Wii play the Wii U
New GTA V Trailers
This weeks releases
and much, much more…
Thank you so much for taking time out of your week to listen to our show. For your convenience, you can simply download the MP3 by clicking HERE or you can subscribe via iTunes or RSS feed and stay up to date. You can also discuss this episode with the TPoW Community and Team over on the Forums.
Where to find what we've been playing
Want to know just what we've been talking about?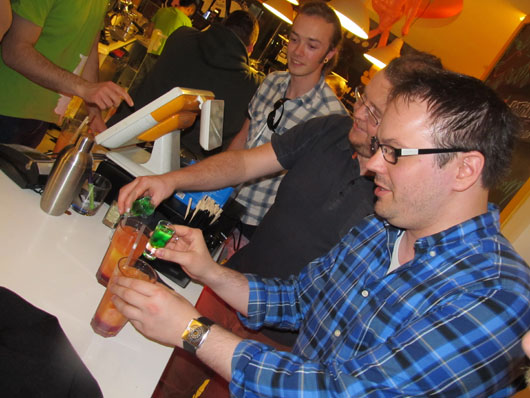 Chris & Neil partaking in a couple of Blood Dragon Cocktails
Chris' childhood Pacman clone handheld
Watch Dogs Trailer
Splinter Cell Blacklist Trailer
Joker's Injustice Finisher (02:14)
Injustice Lobo Trailer
Injustice Batgirl Leak
Grand Theft Auto IV Trailers
Theme Tune 'Medowlark' created by DGurt, '8-Bit Introduction' created by EliteFerrex, 'Hail to the Beef' created by AMTRAX91 and 'Let's STFU' created by FrankMunoz
Big Red Blood Dragon Photo taken by Tim Hibbs of BigRedBarrel.com, Be sure to check out Loading
 

and Puck Monster image taken from RetroGames.co.uk